1) "We are clouds, and terrible things happen in clouds" from Dean Young's Frottage; probably on my side; am I a big enough Dean Young fan for this?; epigraph for one of my favorite collections: Donkey Gospel by Hoagland; Clouds around the letters/behind maybe.
2) The Away With Vega man from the cover of recovery (see below); probably on calf or low maybe my chest; no band name with it though; probably wouldn't hurt much since it wouldn't be filled in, I'm told; maybe cheapest too?; favorite band tribute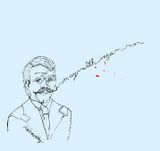 3) Disc golf basket (see below); just logo like on Aviar putter; probably calf; have I been a disc golfer long enough? More importantly, am I good enough?